1488 incunabula sheet / Ludolpus Saxonia
Jan van Westfalen Rudolf van Saksen Geraard Lieu Ludolphus de Saxonia
An incunabula from the very beginning of the printed book.
Imagine the first printed book in the Southern Netherlands came only 14 years before from the press of Dirk Martens in the year 1474 !
This splendid page belongs to a work issued 1488.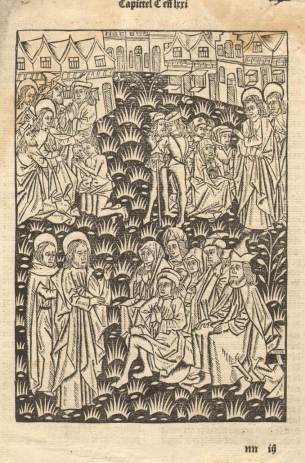 A well documented piece
Ludolphus de Saxonia - The book of the life of our sweet Lord Jesus Christ. Antwerp, Claus Lieu, 20 November 1488.
Middle Dutch translation from the 14th century's Kreutzer Rudolf van Saksen.
The first Latin impression was published in 1474, the first middle Dutch version was printed by Jan van Westfalen in Louvain in 1484/85

Technical: Page mirror.
A leaf with two columns and 42 lines. Indication of the chapter top middle. Initial decorations and rubrification drawn by hand in red ink.
These impressions intended to look as close as possible to an original manuscript, the woodblocks reproducing the miniatures.

Technical:
The sheet measures 20 by 27 cm.
The condition in the printed area is very good but the margins are fragile and with defects.
A perfect sheet to display in the proper museum quality acid free matting that is included.
____________________________________________________________________________________________________________________