The golden age for Dutch landscape
Both, Nieuland, Dujardin, Waterloo Swanevelt
One of the nicest subjects for collecting are the Dutch landscapes from the mid of the 17th century. With this online catalogue I'm glad to offer some of the finest artists from the period.
Mathias Bril (1550-1584)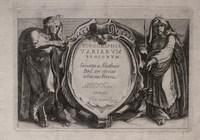 10,6 by 15,5 cm

Title page from Topographia Variarum (1611)

Etched by Simon Frisius (1580-1628). Early example when the artists were still strongly influenced by the great tradition of the Flemish landscapes. Frisius was an artist from Louvain who settled in The Hague. Mathias Bril was the elder brother of Paul Bril. Both are so important for landscape engraving. Mathias died young. It is said he drowned in the Tiber in Rome where he worked most of his life.

Paulus Bril (1554-1626)
approx. 23 by 31 cm
Mostly from the suite of Italian views
Etchings from Willem Nieulandt (1584-1635) who was a pupil from Paulus Bril in Rome and also of Roelandt Savery, that other great landscape artist.
The larger scale and delicate etching puts these masterly designs landscapes on the top.
Herman Van Swanevelt (1600-1655)
View on Roman ruins
Van Swanevelt stayed in Rome between 1629 and 1641. He is a link between the first (Breenbergh) and the third (Both) generations of Italianisants. He was also influenced by Claude Le Lorrain who he must have met during his Roman period.

Mozes Van Uyttenbroeck (ca. 1598- ca.1647)
13 by 19 cm
This artist from The Hague went to Rome in the early stage of his carrier. It was in Rome that he got influenced by Elsheimer, an influence also visible in this etching. Work by Uyttenbroeck is rare to be seen.
approx. 20 by 27 cm
Paysages Italiens
Jan Both was a pupil of Bloemaert before he went to Rome in 1635-1641. His exquisite work is limited. He made only 18 etchings. This did not prevent him to be one of the best landscape artists of the period.

Karel Dujardin (1622-1678)
approx 15 by 14 cm
Karel Dujardin was born in Amsterdam, he probably went to Italy in the period 1640-1652. His work of 53 etchings was made when he was back in the Netherlands and is dated in the period 1652-1660. His landscape have a lot of light in them and his animals are near to Paulus Potter. Another link between some great artists.
Nicolaes Berchem (1620-1683)
10 by 11 cm
Three dogs, one standing

With collector's mark of Duke D'Arenberg on the back (L 567)
Berchem and Dujardin, they did combine landscape and animals in a wonderful manner.

Anthonie Waterloo (1610-1690)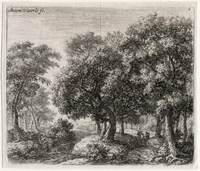 top one 29 by 24 cm
bottom one 12 by 14 cm
We can not finish without this monument in landscape engraving. He is different from the artist before because he is no Italianisant. He probably never went to Rome either.He developed his own style with special mentioning for his absolutely wonderful trees. His work is extensive (136 etchings) and always a delight to look trough.
All these works are availabel for purchase.
Of course you can access larger images by clicking on the thumbnail images above.
Contact me for a price list if interested.

Below you can access detail images to see the quality of these works.
____________________________________________________________________________________________________________________