Italian Masters from the 16th Century
Raimondi Ghisi Veneziano Scultori Vico Mantovani Daddi Dente
Italy has been the cradle for the artistic schools from the 15th, 16th and 17th century. The success of the renaissance art was spread over Europe by a group of top engravers that made some of the finest graphical works of all times. These prints are wanted on the art market and rare to find. With my online catalogue I'm glad to offer a larger selection of some of the finest artists from the period.
Below you see a short biography of the artist and one work.

Click on the thumbnail to see a complete selection of works by the selected artist.
____________________________________________________________________________________________________________________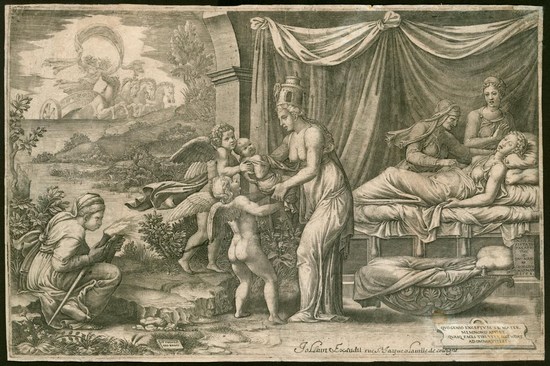 Giorgio Ghisi (between 1512-20 — 1582)
was an Italian coppersmith, painter, and engraver. Born in Mantua,
he subsequently worked with Hieronymus Cock in Antwerp.

Marcantonio Raimondi, (1480 - 1534)
Italian engraver. His technique of engraving became dominant in Italy and elsewhere. His first dated engraving comes from 1505. He was strongly affected by Dürer who was in Bologna in 1506 and began to make copies of Dürer's woodcuts. Dürer made a complaint to the Venetian Government, which won him some legal protection for his monogram. Marcantonio made also engravings based upon Raphael's work.


Agostino Veneziano, (1490 - 1540)

Or Agostino de' Musi, (Venice 1490 - Rome 1540). Important engraver of the Renaissance. He trained in Venice copying Albrecht Dürer and Giulio Campagnola. He moved to Romeand joined the printmaking workshop of Marcantonio Raimondi, of which he was one of the most important members until it was broken up by the Sack of Rome in 1527. Agostino returned to Venice after the sack. It is assumed he died there. Passavant attributed 188 prints to him,

Enea Vico (1523-1567)
Burin engraver born in Parma and died in Ferrara
He went to Rome at a young age and learned from Bonasone, Agostino Venziano, Marcantonio and other great Italian He was called to the court of Florence by Cosimo de Medici. masters of the burin. His work is remarkable for it's grace and beauty. He signed with "AE V" on a tablet



Marco Dente (1493 - 1527)
Italian engraver, born Ravenna, 1493, killed in the Sack of Rome, 1527. Pupil of Marcantonio Raimondi in Rome from about 1510 until his death. His best works are copies after Baccio Bandinelli, Giulio Romano, Raphael and his master.

Diana Scultori Ghisi, (1547-1612)
Also known under the name Diana Mantovana. The Renaissance is the first time period where women artists were permitted to study art. However it was considered uncommon for a daughter to be trained in engraving and to make it a public career, as Diana Scultori Ghisi did. Diana Scultori Ghisi, was a well known engraver of the 16th century. Not only was she remembered for her magnificent engravings, she was also recorded as the first woman ever allowed to sell her work under her own name.
Bernardo Daddi (1512-1570)
Called "master B" he signed with a B on a dice or just a dice"
Italian painter of history and genre. He died in Rome. He was strongly inspired by Marcantonio Raimondi.

Adamo Scultori (Mantovano) 1530 - 1585
Engraver and publisher, born in Mantua, worked in Rome, where he died. Previously called Adamo Ghisi.
____________________________________________________________________________________________________________________
All these works are available for purchase.
Of course you can access larger images by clicking on the thumbnail images above.
Contact me for a price list if interested.
____________________________________________________________________________________________________________________