The early Flemish landscape started around 1550 with the great art of Brueghel and the engraver/publisher Hieronymus Cock. Soon the influence of Italy and the court of Rudolf II in Prague inspired Roeland Savery and Paul and Mathias Bril to design beautiful landscapes engraved by the Sadeler and other. It was only with the decline of Antwerp that the best artists and the centre of art moved to more Northern city's as Amsterdam to give a great impulse to the 17th century's Dutch golden age.
---
Abraham Genoels (1640-1723) - Flemish School
Painter and engraver from Antwerp. Called Archimedes. He was a pupil of Backereel and Bois-Le-Duc.
He went to Rome for eight years and is mainly known for his landscapes.
Two large etchings measuring 29 by 37,50 cm.
The style is very near to the work of Salvator Rosa(1615-1673)
The left one on foolshead watermarked paper, the right one probably a "contre-epreuve"
---
MEULEN, Adam Frans van der (1632-1690) - Flemish School
Flemish painter and tapestry designer. He moved to Paris in 1664, became an assistant to Le Brun and was made one of Louis XIV court painters, specializing in military scenes. He accompanied the king on his campaigns, and his paintings and designs for Gobelins tapestries are accurate historical documents of the battles which they represent. His work of this type is well represented in Versailles. He also made much less grandiose pictures of such subjects as hunting parties and landscapes.
BOUDEWIJNS, Adriaen Frans (1644-1711) - Flemisch School
Adriaen Frans Boudewijns Flemish painter, draughtsman and engraver.on 22 November 1665 he became a master in the Brussels Guild of St Luke, after having been registered as a pupil of Ignatius van der Stock (fl 1660) in the same year. By 1669 he had fled to Paris, where he met fellow Flemings, Pieter Boel, Abraham Genoels, Adam Frans van der Meulen and Jan van Hughtenburgh, and where he was mainly active as an engraver. He engraved van der Meulen's Battles of Louis XIV and numerous works by Genoels, van Hughtenburgh and by himself. These prints combine bold execution with careful attention to detail.
In 1669-70 he was sent to the southern Netherlands with Genoels and van Hughtenburgh to draw three views of the château of Mariemont as tapestry designs for the Gobelins. In the Gobelins accounts there is evidence that the three artists were also paid for a series of tapestry designs depicting the Months of the Year. On 12 January 1670 his second marriage took place, to Barbara van der Meulen, Frans's sister. After her death in 1674, he left Paris and returned to Brussels, where he is first mentioned in 1677. In 1682 he accepted Andries Meulebeeck and Mattijs Schoevaerdts as pupils, and in 1694 his cousin Adriaen Boudewijns (b 1673) was apprenticed to him.
F de meule in. fe. et excu. Romae cum le.de Su.
19 by 27,80 cm.
Trimmed on plate border
AFV. Meulen.In. Cum privilegio
12 by 17 cm.
Full plate border and small margins.

F.V.Meulen, In.et.ex.cum privilegio Regis
V.HB. fe (Van Huchtenburgh)
12,20 by 17,20 cm
F.V.Meulen, in.et.ex.cum privilegio Regis. R.Bauduins, Sculp
18 by 26 cm.
Full plate border and 1 cm margins
---
Jan Brueghel, called Velvet Brueghel (1568-1628) - Flemish School

Crispin De Passe (1564-1637) - Dutch School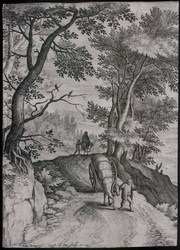 21,20 by 15,50 cm
Inventor: Jan Breughel, Second son of Pieter Brueghel and known for his flower pieces and landscapes influenced by Connincksloo and Bril.
He was an excellent artist who worked together with other artists like his friend Rubens.

Sculptor: Crispin de Passe the Elder,
This is the left part of a larger landscape.

---
All these works are available for purchase.
Of course you can access larger images by clicking on the thumbnail images above.
Contact me for a price list if interested.
Below you can access detail images to see the quality of these works.