17th Century: Etchings by Rembrandt
Rembrandt van Rijn Lievens Van Coppenol
REMBRANDT Harmensz van Rijn (1606-1669)
Rembrandt has been so much associated with the 17th century's etching art in the Netherlands as nobody before. Contemporary etchers where Claude Lorrain and Elsheimer but Rembrandt did surpassed them without any discussion with his spiritual and emotional power. He was probably also the artist who putted the most time and effort in his etchings and was fascinated by the process starting with drawing, etching but also the printing of the plate and the use of the paper. Nevertheless his works are always very spontaneous and reflect the art feeling of probably the greatest master in the medium of all times.
After Rembrandt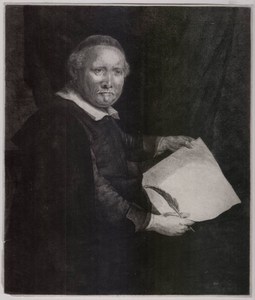 33,50 by 28,90 cm
The Writing Master - 1658
Lievens Willemsz. Van Coppenol

This is a remarkable good etching done by Vivant-Denon - Vivent Dominique, baron Denon (1747-1826) - French School
A painter, engraver and writer from Paris who was important in his time. Click this link.
This - same scale-same detail - etching after Rembrandt B.283 is remarkable and mentioned in his biography.
A fine impression. Paper and impression dating from end 18th century
The large plate complete with small margins. Small tear bottom left corner. Overall good.


Click the thumbnails to see some enlarged details.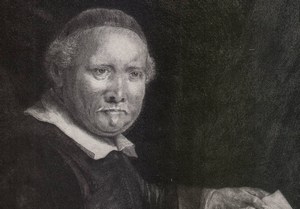 ---
---