19thC. Pre Barbizon Artist / Eugène Blery
Eugene Blery Charles Meyron Adolphe Appian Maxim lalanne Charles-Francois Daubigny
Eugene Stanislaus Alexandre Blery,
French, 1805 - 1887
---
A drawer, engraver and lithographer who was born at Fontainlebleau. He is a very personal artist who deserves research by art collectors. He was the son of a senior officer of the genie troups and was himself a professor in mathematics. He followed his art production from first to last steps and it is a fact he printed own handed his etchings and lithographs. In 1830 he refused the help from protectors and concentrated entirely on landscape art. He visited regions in France like Auvergne and Dauphiné. In 1836 in Lion he was impressed by the etchings of De Boissieu and started to make his own etchings in that manner. He was supported by the family Montalivet and obtained a great success during his lifetime. He got all the honours of the Paris Salons and worked together with the cabinet of prints to establish a collection of his work. He was also the tutor of Charles Meyron, another very inspired artist.
---
TWO HAND SIGNED PRINTS IN FIRST STATE
LE LYS DE VIGNE (1845)

Signed: E Blery Del et Sculp -- aqua forti 1845

Hand signed in pencil bottom left
Titled own handed in pencil

Also in his hand writing :
1e état de la planche (followed by his signature)

On Chine applied on woven paper

25,50 by 19,50 cm on plate border,
35 by 27 cm for the sheet
Vey personalised impression close to the artist.
Price: 195 EURO

EXCELLENT IMPRESSION SOLD BY PROUTE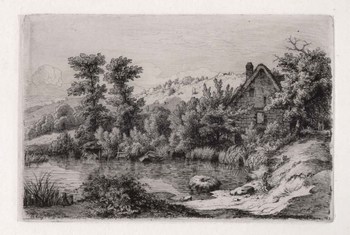 LE PIGNON, 1865
Signed: E Blery -- 1865
Reference: B.94
With pencil inscription:Le Pignon
Eau-forte de Eug. Blery - P.P.Prouté 1923 (date of his selling...)
On a large sheet of woven paper, Outstanding impression
14 by 21 cm on plate border, 31 by 44 cm for the sheet
Price: 160 EURO
---
You can access larger images by clicking on the thumbnails.
Contact me for prices and availability before purchase.

Below you can access detail images to see the quality of these works.
---
---