19thC. French school / Barbizon Landscapes
Charles-Francois Daubigny Charles Meyron Adolphe Appian Maxim lalanne Henri-Joseph Harpignies Camille Corot
BRACQUEMOND FELIX (PARIS 1833 - 1914 SEVRES)
---
Felix Bracquemond: Famous both for his etchings after his designs and the designs of his contemporaries, Felix Bracquemond was a major artist of the nineteenth century etching revival in France. Apprenticed to a lithographer at the age of fifteen, he was largely self-taught in the art of etching and produced his first prints in this medium at the age of nineteen. As a young man he befriended such artist-etchers as Manet and Legros as well as such authors as Gautier and the Goncourts. In 1863, at the age of thirty, Felix Bracquemond was awarded the French Legion of Honour for his contribution to the art of etching.
He was one of the most ardent defenders of the engraving and soul of "la société des aquafortistes' (1862-1867). When he acquired his own press in 1856 he devoted him with passion to the search and trail of processes, generously sharing his experiance with the artists ( Corot, Millet, Rousseau, Manet, Degas, Fantin-Latour...) He played in this way an important role in the centre of the Impressionist movement.
A master of every genre, Felix Bracquemond's influence was enormous, particularly in France and Britain. During his life, Felix Bracquemond achieved distinction not only for his own etchings but also for his etched interpretations after the art of Delacroix, Millet, Ingres, Rousseau, Moreau, Meissonier and others.
---

Portrait of Camille Corot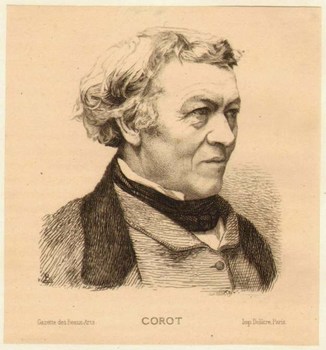 The great painter Camille Corot

Monogram by Braquemont inside plate bottom left.
Printed by Delâtre
Published in 'Gazette des beaux Arts'
13 by 12,50 on plate border.
Chine appliqué
Price: 70 EURO


A Night scene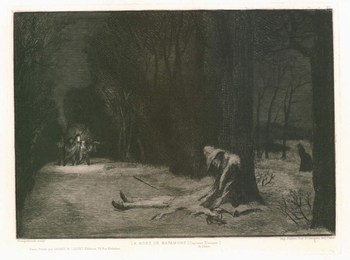 "LA MORT DE MATAMORE" - 1862
Or "la Neige en devil"
(The Death of Matamore)
Bernaldi 177
Published by CADART et LUQUET
Printed by Delâtre
18 by 23,5 cm on plate border
Woven paper sheet 30 by 45 cm
Price: 120 EURO
A view on a lake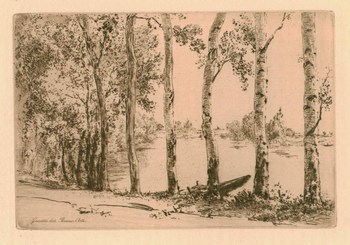 "LES TREMBLES"
(The Aspen -or Birch)
Published in The Gazette des Beaux-Arts in 1884
10 by 15 cm
Laid paper sheet 20 by 28,5 cm
Price: 110 EURO
---
You can access larger images by clicking on the thumbnails.
Contact me for prices and availability before purchase.

Below you can access detail images to see the quality of these works.
---
---