Canticum Canticorum / The Song of Songs - 1574
Marten De Vos Flemish School Claes Jansz. Visscher
Inventor
Marten de VOS (1532-1603) Antwerp
Publisher
Claes Jansz. Visscher "Piscator" - (1550 - 1612 )
Canticum Canticorum
A complete series of 6 prints dating from circa 1590.

After David's adultery with Bathsheba and murder of her husband Uriah the Hittite, King David married Bathsheba. To them was born a son Solomon who was to inherit the throne of Israel. The Book of Kings says that Solomon wrote 1005 songs. Only this one survives.Most commentators consider the Song of Solomon to have been written early in his life. Solomon's early godly years were followed by a decline and an extended time in his life when he was not walking with God. Later, towards the end of his life, He apparently returned to close fellowship with God.Many Christian commentators interpret the Song of Songs as a picture of the Church as the Bride of Christ. God loves His only Son and has called out, and prepared for him, a beautiful, virgin bride, "without spot or blemish,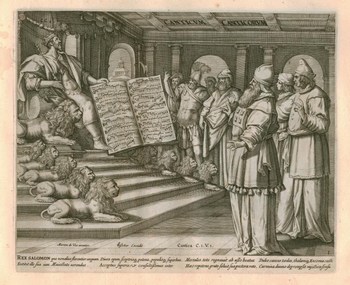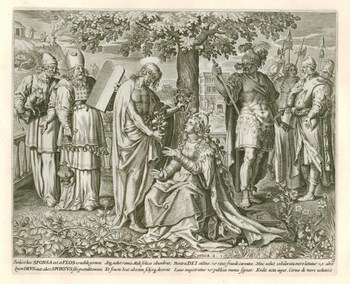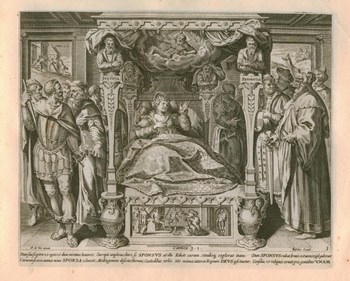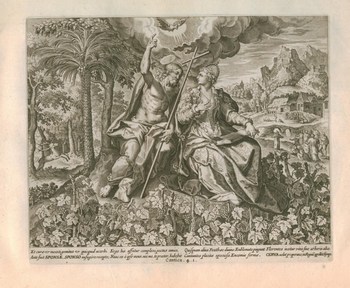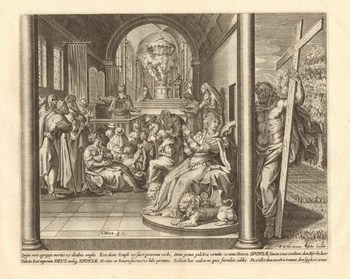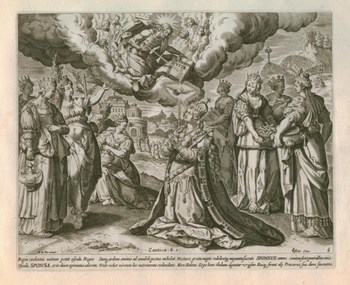 Rare important set in top condition.
Good impressions on watermarked laid paper.
From the edition by Visscher and his sons (17th century)
21 cm in height by 16 cm wide on plate border
In a full sheet measuring 29,50 by 37 cm

This is a fine series of prints
exceptional fine and rich engraving
The details of foliage and clothing are superb
The songbook on plate one and the foliage on page 2 and 4 give extra value

---
You can access larger images by clicking on the thumbnails.
Contact me for prices and availability before purchase.

Below you can access detail images to see the quality of these works.