Two original impressions of one of his most famous etchings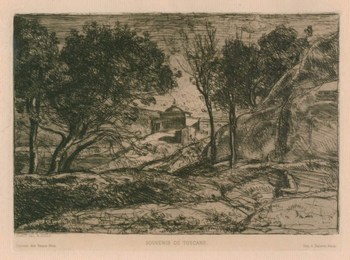 The left one printed in sort of brown bister ink, the right one a very smooth good inked deep black impression.
SOUVENIR DE TOSCANE, 1845
Reference: Delteil 1 IV/IV.

Edition of approximately 750 proofs. Published in "Gazette des Beaux-Arts" April 11, 1875. Signed in plate
Inscribed in plate: ''Corot Del.& Sculp." and "Gazette des Beaux-Arts / Souvenir de Toscane / Imp. A. Salmon Paris''.

13,3 by 18 cm
More info about this etching

Dramatic tonal variations characterize this romanticized view of the Tuscan landscape. Depicting the seductive quiet of a provincial lifestyle; Corot entices the viewer along an intimate path, inundating the senses with imagined sensory stimulus.
Originally executed in 1845, this is an example of the fourth state of this image. The work was printed by Salmon, Paris and published by the Gazette des Beaux-Arts in 1875. Reportedly the plate was discovered by the engraver Felix Bracquemond in a box of nails and was first printed in 1865.
The artist's extensive working of the plate creates an image that is both quieting and energetic. Using varied techniques throughout the image, Corot creates an impressive textural quality which varies from the gnarled tree bark to the rounded forms of the rock outcropping seen along the right of the image. As the viewer progresses through the image, passing a praying monk along the right, one is lulled by the delicately layered landscaped. Passing through shadows and concealing brush, the viewer is ultimately confronted by a picturesque domed structure seen along the horizon.
Of his process Corot once stated, "after my outings I invite Nature to come spend several days with me; that is when my madness begins. Brush in hand, I look for hazelnuts among the trees in my studio; I hear birds singing there, trees trembling in the wind; I see rushing streams and rivers laden with a thousand reflections of sky and earth; the sun sets and rises in my studio."
Price: 700 EURO each