19thC. French school / Barbizon Landscapes
Charles-Francois Daubigny Charles Meyron Adolphe Appian Maxim lalanne Henri-Joseph Harpignies Camille Corot
Eugène Delâtre (1864-1939)
---
Eugene Delatre: A prominent early twentieth century French etcher and printer, Eugene Delatre studied art techniques under John Lewis Brown and under his famous father, Auguste Delatre. Auguste Delatre (1822-1907) had established himself as the most sought after printer of fine etchings during the latter nineteenth century. During this period he printed the etched plates of such prominent artists as Meryon, Bracquemond, Whistler, Seymour Haden and many others. Eugene Delatre continued this fine tradition into the twentieth century and printed the plates of Picasso and others.
Eugene Delatre first gained international recognition as a creative etcher during the mid 1890's when he contributed plates to such influential publications as "L'Estampe Originale" (1894). Many of these early works were etchings printed in colors and in this decade Delatre, along with such etchers as Jean Francois Raffaelli and Manuel Robbe, led the way in the revival of the color etching.
Eugene Delatre was a founding member of the Societe de la gravure en couleurs and a full, exhibiting member of the Societe Nationale des Beaux-Arts.
---

A valuable hand signed and numbered landscape etching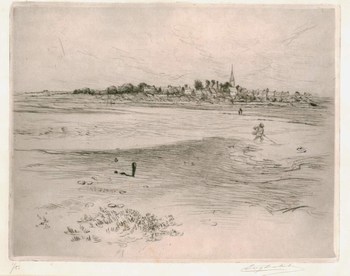 ARZON (MORBIHAN), 1927
La pêche a crevette a marée basse
reference: S.L.375
Hand signed and numbered 1/50
Dry point etching

Impressive etching by this important artist.
It shows a scene on the beach of Arzon in Bretagne/France during the low tide with a fisher for shrimps.

22 by 28 cm on plate border.
Laid paper sheet 30 by 36 cm
Price: 520 EURO
---
You can access larger images by clicking on the thumbnails.
Contact me for prices and availability before purchase.

Below you can access detail images to see the quality of these works.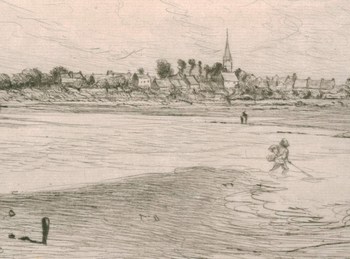 ---
---