19thC. French school / Barbizon Landscapes
Charles-Francois Daubigny Charles Meyron Adolphe Appian Maxim lalanne Henri-Joseph Harpignies Camille Corot
DIAZ DE LA PENA (1807-1876)
---
Narcisse Virgile Diaz de la Peņa was one of the leading lights of the Barbizon School, which paved the way for the Impressionists. Artists who worked alongside Diaz de la Peņa at Barbizon include Corot, Daubigny, and Harpignies. Narcisse Diaz de la Peņa made some 10 original lithographs, but most of the prints of his art are interpretative etchings made by other artists after his paintings.
---

Signed etching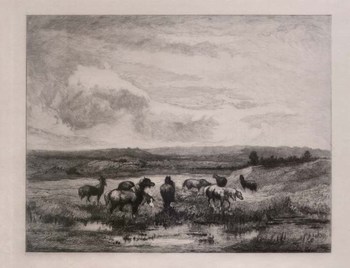 WILD HORSES

Signed N Diaz bottom left in the image
Etching.
Very thin "papier de chine" with chainlines
23 by 26 cm on plate border.
paper sheet measures 27 by 32 cm
Price: 120 EURO

---
You can access larger images by clicking on the thumbnails.
Contact me for prices and availability before purchase.

Below you can access detail images to see the quality of these works.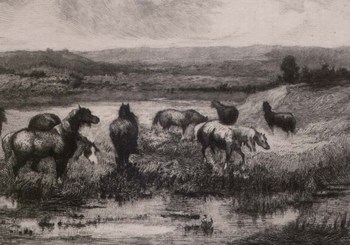 ---
---