20thC. French school / Léopld Flameng
Gustave LeHeutre Pablo Paul Roig Jacques Beurdeley Tigrane Polat Rafael Drouart Pieree-Louis Moreau
Léopold Flameng (1831-1911)
Léopold Flameng (1831–1911) was born to French parents in Brussels where he trained as an engraver with Luigi Calamatta. He collaborated on several projects with Calamatta, who had a considerable reputation as a reproductive engraver of contemporary French and old master paintings. Flameng went to Paris in 1853 where he learned the technique of etching, and tried unsuccessfully to launch himself as an original etcher. However, he proved himself a versatile copyist, able to reproduce successfully the work of a broad range of painters in both etching and engraving. He made more than 800 plates for many different projects over his lifetime. His prints were widely collected in the United States by New York art dealer Samuel P. Avery among others.
---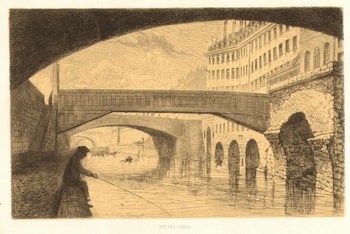 FISHER ALONG A CITY CANAL

Etching and Dry point
Signed in the plate bottom middle.
Titled bottom middle : Hotel-Dieu

An inspired work aside from his more reproductive oeuvre
Good impression on woven paper.

Plate border: 16 by 22 cm
Sheet 31 by 21 cm
Price: 60 EURO
---
You can access larger images by clicking on the thumbnails.
Contact me for prices and availability before purchase.

Below you can access detail images to see the quality of these works.
---
---