19thC. French school / Barbizon Landscapes
Charles-Francois Daubigny Charles Meyron Adolphe Appian Maxim lalanne Henri-Joseph Harpignies Camille Corot
Jozef IsraŽls (1824-1911)
---
Jozef IsraŽls was born into a Jewish family in Groningen. His parents wanted him to be a rabbi and IsraŽls had to struggle to realise his dream of becoming an artist. The influences of first Kruseman and then Picot directed him towards the Romantic tradition of history painting, but although he produced some work in this tradition (debuting at the Salon de Paris in 1855) he soon abandoned this style, in favour of the plein-air painting he had encountered at Barbizon in 1846 and 1853, and in Oosterbeek, the Dutch equivalent of Barbizon. From 1855, IsraŽls made frequent sketching trips to the little fishing village of Zandevoort. Fishermen became a favourite motif in his art, along with landscapes and scenes of peasant life.
In 1871 he settled in The Hague, where he remained for the rest of his life. In his day Jozef IsraŽls enjoyed a huge success, both in Holland and in France. He remains one of the towering figures of the Hague School; the Dutch equivalent of Millet. Vincent van Gogh revered IsraŽls and Millet equally, often linking their names. In a letter of March 1884 he described them, along with Corot, Daubigny and Duprť, as "the great forerunners". With IsraŽls' etchings, we are suddenly surprised by a lightness of touch that is decidedly Impressionist in its aims and its techniques, with all the details simply indicated by quick fresh lines rather than laboriously delineated. IsraŽls became interested in etching in 1870, and produced in all 30 plates, which are described and illustrated in the catalogue raisonnť by H. J. Hubert, The Etched Work of Jozef IsraŽls. IsraŽls treated his etchings rather like sketches, printing them in small numbers to give to friends. They were not usually formally editioned,
Writing of the etchings of IsraŽls in L'Art in 1879, the critic Charles Tardieu describes them as a painter's etchings, and deliberately links them to Impressionism by describing them as "esquisses et impressions", sketches and impressions. The confidence and rapidity with which IsraŽls has sketched these scenes onto the etching plate gives a sense of intimacy and immediacy. There is also a real tenderness in his depiction of the bathing children and the resting fisherwoman.
---

A fine scene on the beach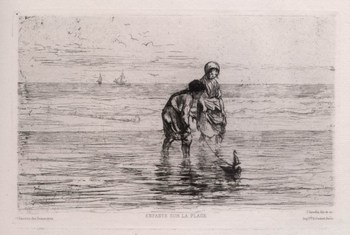 ENFANTS SUR LA PLAGE
APRIL 1879
Reference: Bťraldi 1, Sanchez & Seydoux 1879-9
Ocasionally IsraŽls allowed art revues such as the Gazette des Beaux-Arts or L'Art, to print editions of them. This is the source of this delightful etching, Enfants sur la plage and ņ Scheveningue.
Etching.
Printed by Cadart on laid paper, published by the Gazette des Beaux-Arts. Artist, title, publisher and printer are credited below

15 by 23 cm on plate border.
Laid paper sheet measures 21 by 28 cm
Price: 340 EURO

---
You can access larger images by clicking on the thumbnails.
Contact me for prices and availability before purchase.

Below you can access detail images to see the quality of these works.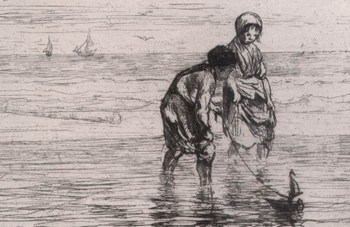 ---
---