19thC. French Impressionism / Johan Jongkind
Edgard Degas Claude Monet Camille Pisarro Renoir Jean-Francois Raffaelli Johan Jongkind
Johan Jongkind (1819-1891)
---
Johan Jongkind was born on June 3, 1819 in the town of Lattrop in the Overijssel province of the Netherlands. Trained at the art academy in The Hague, in 1846 he moved to Paris where he studied under Eugène Isabey and Francois-Edouard Picot. Two years later, the Paris Salon accepted his work for its exhibition, and he received acclaim from critic Charles Baudelaire and later on from Emile Zola. However, an alcoholic and subject to depression, Johan Jongkind experienced a series of ups and downs. Jongkind returned to live in Rotterdam in 1855, and remained there until 1860. Back in Paris, in 1861 he rented a studio on the rue de Chevreuse in Montparnasse where some of his paintings began to show glimpses of the impressionist style to come. In 1862 Johan Jongkind befriended the young Claude Monet who later referred to Jongkind as the "master." The following year Jongkind exhibited at the first Salon des Refusés. Despite several successes, in another of his down periods the impressionist group did not accept his work for their first exhibition in 1874. In 1878 Jongkind moved to live in the small town of La Côte-Saint-André near Grenoble where he died on February 9, 1891.

---

Original etching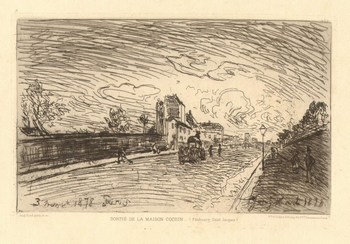 SORTIE DE LA MAISON COCHIN - 1878
(Fauburg Saint Jacques)
Reference:
Melot.20 ( III / IV )
Leaving the Maison Cochin, Faubourg Saint-Jacques (Evening)

Printed for "L'Illustration nouvelle - 1879"

Large laid paper sheet
16 x 24 cm plate border
29 x 45,50 cm sheet
Oval collection mark MH
Price: On request
---
You can access larger images by clicking on the thumbnails.
Contact me for prices and availability before purchase.

Below you can access detail images to see the quality of these works.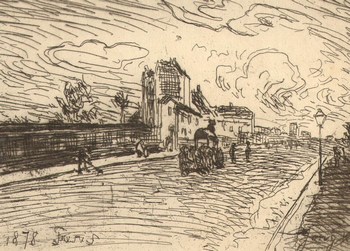 ---
---