19thC. French Impressionism / Edouard Manet
Edgard Degas Claude Monet Camille Pisarro Auguste Renoir Paul Cezanne Edouard Manet
Édouard Manet (1832-1883)
---
Edouard Manet was a French painter whose work inspired the impressionist style. His far-reaching influence on the general development of modern art was due to his portrayal of everyday subject matter; his use of broad, simple color areas; and a vivid, summary brush technique. Manet was born in Paris on January 23, 1832. To avoid studying law, as his father wished, he went to sea. He then studied in Paris under the academic French painter Thomas Couture and visited Germany, Italy, and the Netherlands to study the paintings of the old masters. The Dutch painter Frans Hals and the Spanish artists Diego Velázquez, and Francisco Jose de Goya were the principal influences on his art.Manet began to paint genre (everyday) subjects, such as old beggars, street urchins, café characters, and Spanish bullfight scenes. In 1863 his famous Le déjeuner sur l'herbe was shown at the Salon des Refusés, a new exhibition place opened by Napoleon III following the protests of artists rejected at the official Salon. Hailed by young painters as their leader, Manet became the central figure in the dispute between the academic and rebellious art factions of his time. In 1864 the official Salon accepted two of his paintings, and in 1865 he exhibited his Olympia, a nude based on a Venus by Titian, which aroused storms of protest in academic circles because of its unorthodox realism. In 1866 the French novelist Emile Zola, became a close friend of the painter. He was soon joined by the young group of French impressionist painters, Edgar Degas, Claude Monet, Auguste Renoir, Alfred Sisley, Camille Pissarro, and Paul Cezanne, who were influenced by Manet's art. Manet did not gain recognition until late in life. Manet died in Paris on April 30, 1883.
---

Original etching by Manet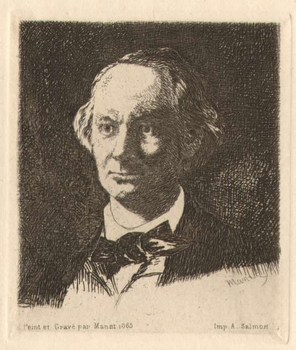 PORTRAIT OF BAUDELAIRE EN FACE - 1865
4 th. State (later impression)

Peint et Gravé par Manet 1865
Imp. A Salmon - Paris

9,50 by 8 cm on plate border,
Excellent impression in a full sheet of thin laid paper with wide margins.

Purchased at the Ferdinand Roten Galleries, Baltimore, MD around the 1970's
Price: 160 EURO

---
You can access larger images by clicking on the thumbnails.
Contact me for prices and availability before purchase.

Below you can access detail images to see the quality of these works.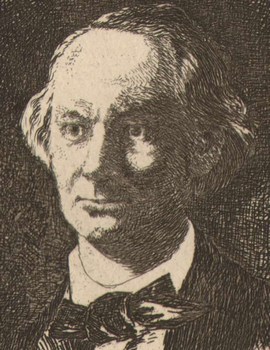 ---
---