18th Century Marine prints
Jean Randon Claude Randon Laurent Brémont Marseille
Below a small but spectacular selection of exquisite Marine prints
THE GREAT WESTERN STEAM SHIP

Famous English Marine print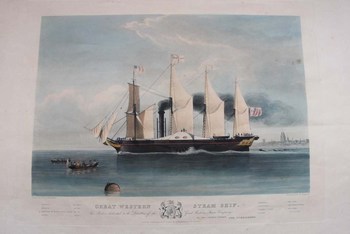 Author: PAPPRILL, H. [after] COTEMAN, J.S.

Great Western Steam Ship.
This Print is dedicated to the directors of the Great Western Steam Company,
By their obedient Servants, The Publishers.
Published, Date: London, Ackermann & Co., 86, StrandJuly 21st, 1838.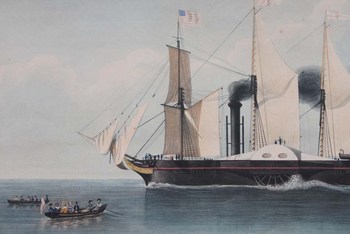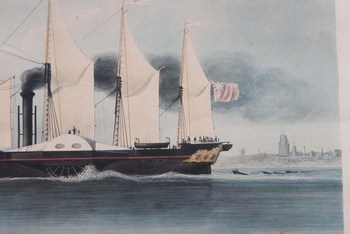 Hand-coloured engraving with aquatint. Besides a small spot bottom right in the sky only some moderate time staining.
Dimensions: 50,2 by 37,6 cm. (20 by 15 inches) on plate border in a larger sheet with over 5 cm margins.
A fine depiction of Isambard Kingdom Brunel's SS Great Britain. She was, when constructed, the fastest ship to complete the transatlantic crossing. She was an iron-strapped, wooden, side-wheel paddle steamer (with four masts to hoist the auxiliary sails), designed by the great railway engineer Isambard Kingdom Brunel. The hull was built of oak by traditional methods. It was the largest steamship of its time, measuring 236 ft (71.93 m) in length, and designed to carry 148 passengers. It included a big passenger saloon (75 feet long by 34 feet (10 m) at its widest). The sails were not just intended to provide auxiliary propulsion, but were used in rough seas to keep the ship on an even keel and ensure that both paddle wheels remained in the water, driving the ship in a straight line.

---
A pair of most important French Marine prints.

Published in Marseille France in the beginning of the 18th century
An atlas containing this prints was offered at the 2006 Amsterdam Antiquarian book fair
for a substantial price of 25.000 EURO for the volume.
1-Navire-Amiral Admiral ship

3-Galère Galion

---

Published Marseille, Laurent Brémont, 1715-26
They where engraved by Randon Jean or Claude around 1710
The work contained 19 plates of which 3 Marine plates:
1-Navire-Amiral 2-pièces de construction 3-Galère

---

These are large prints old coloured at the time.
They measure 55,50 cm by 42,50 cm

Condition is very good. Of course with the original middle fold and moderate age toning.
They are in frames with overall measurements of 65 by 78 cm.
Click the thumbnails to see larger images.


---
Price on request
---