19thC. French school / Barbizon Landscapes
Charles-Francois Daubigny Charles Meyron Adolphe Appian Maxim lalanne Henri-Joseph Harpignies Camille Corot
Charles Méryon (1821-1868)
---
Charles Meryon began a career in the navy, but left it in 1846 in order to study painting in Paris. Blery introduced him to etching and thereafter Meryon's artistic life was absorbed by this medium. At first, he practiced his technique by copying 17th century Dutch landscape prints. His first original etching was executed in 1850, and the next four years saw the completion of the important suite Les Eaux-fortes sur Paris. He frequently etched architectural scenes and cityscapes, but his compositions were unusual in that they concentrated on details and utilized strange angles. The objective precision of Meryon's technique complemented his visionary approach to everyday subjects. It has been said that his art represented "...France's urbanism, preoccupation with Gothic and strong romantic tendencies." Although praised by Philippe Burty and Baudelaire, Meryon's work never received widespread recognition and only became popular after his death. Today, his prints are prized by connoisseurs, while his lifelong artistic isolation fascinates the romantic imagination.
---

A signed etching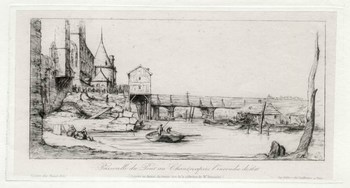 PASSERELLE DU PONT AU CHANGE APRES L'INCENDIE DE 1621,
Ca 1860
Reference: Delteil/Wright 50.
Etching.
Signed O.M. on the right and "star" on the left

This etching shows the footbridge which temporarily replaced the Exchange Bridge in Paris after the fire of 1621.
Printed in Paris by Delâtre and published by the Gazette des Beaux-Arts, c. 1860.
12 by 23 cm on plate border.
Chine Collée.
Sheet measures 21 by 28 cm
Price: 400 Euro

---
You can access larger images by clicking on the thumbnails.
Contact me for prices and availability before purchase.

Below you can access detail images to see the quality of these works.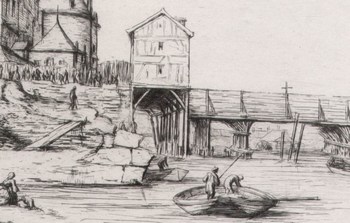 ---
---