Crispin De Passe / The Metamorphoses
Crispin De Passe Utrecht Hendrick Goltzius Ovidius
Crispin de Passe I (1565-1637) - Dutch School (Utrecht Mannerists)

Drawer, burin engraver and painter. Called Crispijn de Passe the Elder. Born in Arnemuiden (Zeeland) ca. 1565, died in Utrecht 6 March 1637. Pupil of Dirk van Coornhert . Active in Antwerp 1584/5, Aachen 1589/90, Cologne 1594-1610, then settled in Utrecht. Father of the artists Crispijn de Passe II, Simon de Passe, Willem de Passe and Magdalena de Passe.~~Reference: Hollstein, Volumes XV and XVI.~Franken, D. L*Oeuvre GravÈ des Van De Passe. Amsterdam, Frederik Muller & Co, 1881~
Te work of the Passe shows a style and technique that has to be considered as of the best of al times.
He is a prominent member of the Utrecht Mannerism and both in time scale and in quality very near to Hendrick Goltzius.
---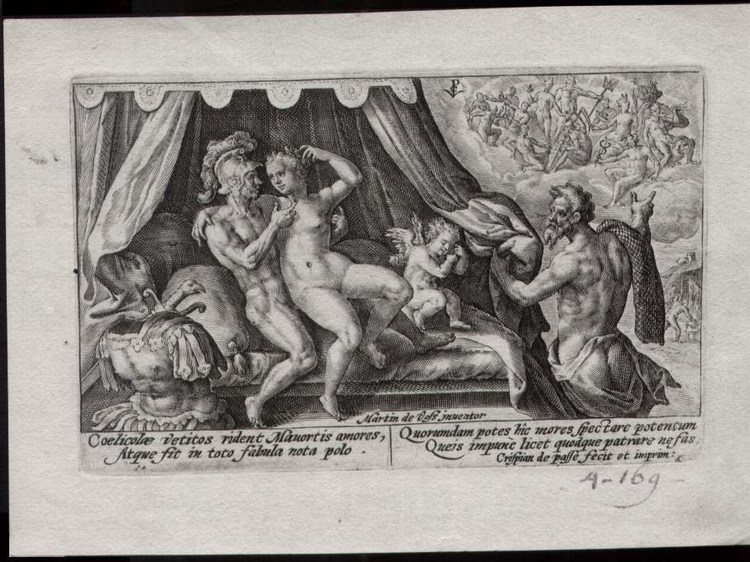 From his Ovid series published in 1602
A selection of 10 prints with the most interesting subjects,
Including Acateon discovering Diana and here nude nymph,
Poseidon discovering the adultery of Vulcan and Venus,
Ganymedes kidnapped by Jupiter and many others...
Reference: Crispin de Passe, Metamorphoseon Ovidianarum (Cologne, 1602-04)Partly drawing on an unfinished cycle of Ovid designs by compatriot Hendrick Goltzius (1589, 1590, 1615), renowned engraver Crispijn de Passe was responsible for a 1602 series of Ovid engravings which take some of their Latin verse captions directly from Goltzius' own sequence. Goltzius' series is reproduced in The Illustrated Bartsch, 165 vols., New York, 1978- (Vol. III, 313-38, "After Goltzius" 31-82 [104]), At some point it appears Goltzius planned to draft twenty designs for each book of the Metamorphoses; along with the forty intended for Books I and II, he produced just eight further designs for Book III and four more for Book IV. De Passe's debts to Goltzius and his other main precursors are well-sketched by Veldman (128-29, nn. 16-27); a quick sense of the kinship between Goltzius' and de Passe's approaches to Ovid may be gleaned from comparing a sampling of prints by de Passe with the Wesleyan selections and with the famous Andromeda prints not included in Goltzius' main series. (See also Goltzius' sketch in the Royal Collection, Windsor.) As Veldman notes, de Passe probably began with a handful of separately titled engravings from Ovid, then lengthened the series to a total of 134; one of these (Veldman's 108 [108 V.], from the end of XI) is the Judgment of Paris, from a theme treated in Ovid's Heroides 16 but not found in the Metamorphoses. Many of de Passe's original drawings for the series survive in the Royal Collection at Windsor; see Veldman, 129, n.29.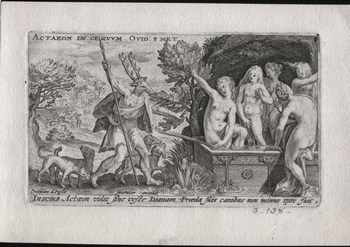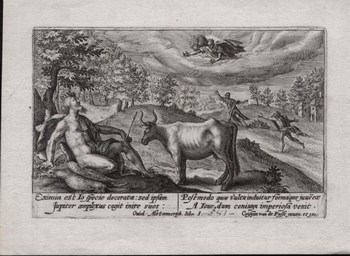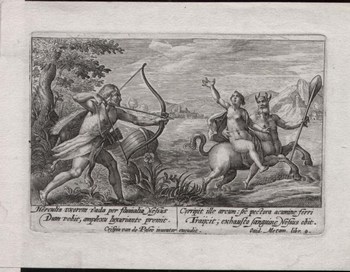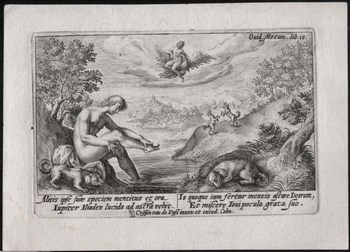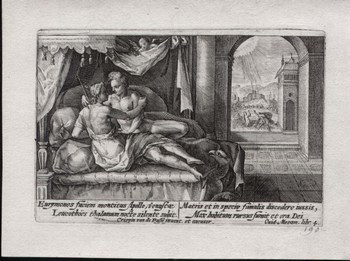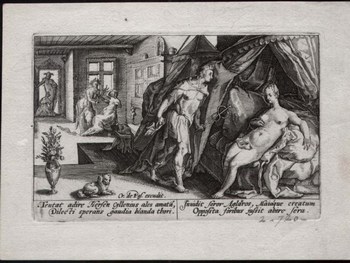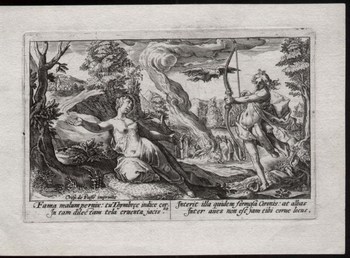 Measurements
On plate border 8,50 by 13 cm
Sheet 11 by 16 cm

The watermark visible in some is that of an eagle with spread wings
Impression and condition of the prints is museum standard.
About the style of these engravings:

The mannerist style is at it's best here.
The exaggerated torsion of the figures..., the more then beautiful fleshy personages..., the vibration in the landscape...,
I think it is very difficult to be more successful in translating a feeling into engraved lines.
These prints are a selection of the best subjects from the Ovidian series
---
You can access larger images by clicking on the thumbnails.
These are all original impressions, done in the 17th century.
Contact me for prices and availability before purchase.

Below you can access detail images to see the quality of these works.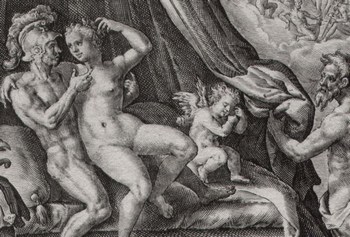 ---