16-17th Century: Engraving of Fish in seascapes
Adrian Collaert (°1560-1618) Albert Flamen ( active 1646-1648)
Adrian Collaert is an artist of the 16th century who's landscapes are very much in the manner of Brueghel.
Adrian Collaert (1560-circa 1618) - Flemish School
His father Hans Collaert (Died 1581) was also an engraver, as was also his brother Hans (1540-1628). He was the son in law of the famous Antwerp engraver and publisher Philips Galle.
These engravers from Antwerp are known for there high quality work. They are involved in the engraving of many spectacular religious plates from the period and made also nice mythological and landscape engravings or suites with birds and fish in natural surroundings. It is a pleasure to offer plates and full sets from these two. These artists made -" in an artistic perspective"- the most interesting works in this field ever.

Adrian Collaert (1560-1618)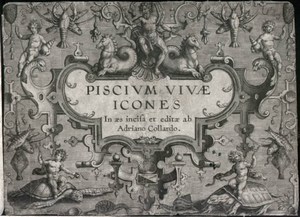 Piscium Vivae Icones
On aes incisa et editae ab Adriano Collardo / Antwerp 1580
reference: HOLL.648-678
[Antwerp c. 1580]. First edition of an extremely rare publication. OCLC locates one complete copy.The title is an elaborate drawing depicting Neptune, an architectural centre and numerous marine subjects, including fish, shells, lobsters and turtles. The plates depict numerous fish along with turtles, shells, crustaceans, seals, frogs, snakes, a crocodile and a whale. The detailed backgrounds include: ships, fishermen, castles and houses, botanical specimens, villages and landscapes. Latin names are included for the fishes and marine animals
Splendid lifetime impressions from an early state before the number,
on very early watermarked laid paper.

12,5 by 18,50 cm on plate border
in a full sheet of 18,5 by 27,5 cm

---
You can access larger images by clicking on the thumbnails.
Contact me for prices and availability before purchase.

Below you can access detail images to see the quality of these works.
---
---