20thC. French school
Edgar Chahine Pablo Paul Roig Jacques Beurdeley Tigrane Polat Rafael Drouart Pieree-Louis Moreau
TIGRANE POLAT (1874 - 1950)
---
Tigrane Polat was one of the most prominent artists of the Armenian diaspora. Born in Alexandria, Tigrane Polat went to Paris to study law, but soon abandoned his law studies to become the pupil of his fellow-Armenian, the etcher Edgar Chahine. After a time in Chahine's studio, Polat entered the Académie Julian, where he studied under Jean-Paul Laurens and Benjamin-Constant. Polat had a very light touch as an etcher, and specialized in nymph-like, scantily-clad maidens. His name is sometimes spelled Tigrane Polad.
---

Hand signed and numbered etching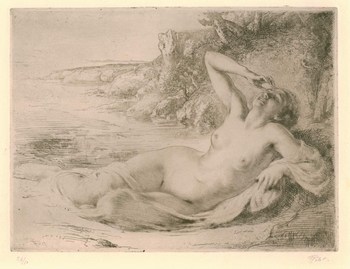 ARIANE ABANDONNEE, 1929

Original etching with dry point

hand signed and numbered 4/30
A perfect impression of this perfect combination of landscape and figure study.

20 by 27 cm
Printed on vellum paper, signed and justified
From a publication limited to 50 impressions
sheet 27 by 39 cm
Dry stamp
"Ed. Sagot, editeur Paris"
Lugt 2254
Price: 220 EURO

Hand signed and numbered etching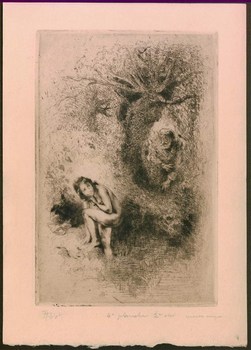 The wolf and the lamb
Original etching
'Unique' impression of the unfinished second state

hand signed and inscribed: 4e planche, 2e état, épreuve unique
A perfect impression of this perfect combination of landscape and figure study.
22 by 15 cm
Printed on Japan paper, signed and justified
Unique impression
sheet 28 by 20 cm
Price: 120 EURO

Nymphs dance with Satyrs.
A luxurious edition containing a series of 20 etchings by Tigrane Polat
Paris: Devambez, 1930. Folio.




With 20 original etchings with tissue guards by Polat.
This is one of the edition of 20 reserved for the Artist, the Author and the Editor.
This copy was specially printed for: Monsieur Fernand Houget
Bevelled edge in orig. slipcase.

Besides this rare limited edition here for sale for the Artist and his co-operators
there was also an edition of 100 copies printed on vélin de Rives.
There were 21 copies of the etching in first state and 51 copies of the etching in Remarque state.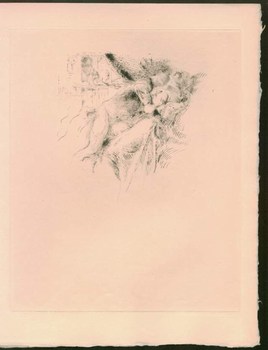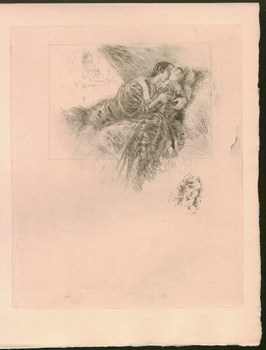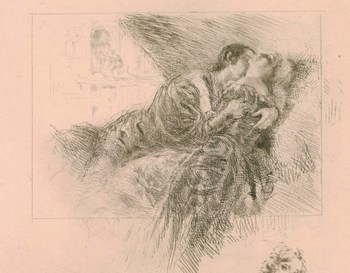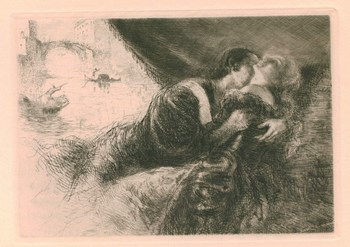 Each etching in 3 states more or less, (state trial, notes, final state). 60 etchings in total.
On Japan printed form.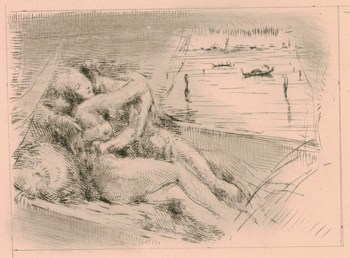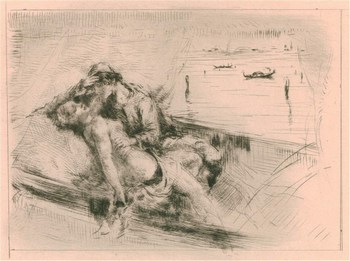 ---
Printed and published by André Devambez, under the artistic direction of Édouard Chimot.
---
You get really near to the Artist following the evolution of his design trough the different states.
---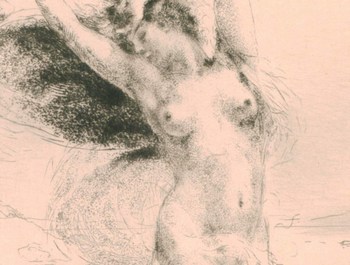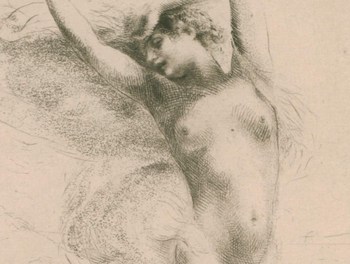 Etchings
Sheet size: 315x240 mm
Image size: 210x190 mm
Price: on request
---
You can access larger images by clicking on the thumbnails.
Contact me for prices and availability before purchase.

Below you can access detail images to see the quality of these works.
---
---