19-20 thC. British and American prints
Sir John Charles Robinson (British 1824-1913)
---
Besides an etcher with some fine works like Corfe Castle, Sunshine after Rain, Swanage down ans Space and Light which are entirely successful he was above all...
an art connoisseur and collector, the son of Alfred Robinson, of Nottingham, John Charles Robinson was born 16 December 1824 at Nottingham, where he was also educated. He was brought up there by his grandfather, a bookseller, and, later, was sent for art-training to the studio of Michel Martin Drolling in Paris. There he spent much time in the Louvre, laying the foundation of his knowledge of Renaissance art. In 1847 he was appointed head master of the government school of art at Hanley, Staffordshire. In 1852 he became first superintendent of art collections of the South Kensington Museum, where he remained for seventeen years, and organized the circulation of works of art among provincial institutions. Robinson's technical knowledge and artistic appreciation of the many branches of art were unusually wide and thorough, and his taste was in a extraordinary degree in advance of his time. Until his resignation in 1869 he was frequently employed in travelling for the museum in Italy and especially in Spain. With the small funds at his disposal he was able to acquire, at what would now be considered infinitesimal prices, a vast number of those works in marble, bronze, majolica, and terracotta which quickly gave South Kensington a unique position at the time among the museums of Europe. On retiring from the public service he continued this important work as the adviser of eminent private collectors, such as Mr. Malcolm of Poltalloch, and Sir Francis Cook. As an instance of his wise purchases, he acquired for Sir Francis Cook in 1872 for £335 Hubert van Eyck's The Three Maries, which in 1927 was the gem of the Flemish exhibition in London. Robinson's own extensive collections included at one time or another, besides paintings, drawings, and sketches, Greek gems, Renaissance jewellery, ivories, bronzes, Oriental porcelain, French furniture, Spanish and Italian embroideries, and ancient Coptic fabrics. From 1882 to 1901 he was surveyor of the Queen's pictures. He was knighted in 1887 and made C.B. in 1901.
In 1866, in conjunction with the Marquis d'Azeglio, Robinson founded the Fine Arts Club (afterwards the Burlington Fine Arts Club), and for fifteen years acted as its honorary secretary. He was a skillful etcher, excelling especially in his treatment of strong effects of light, and he joined with his lifelong friend, Sir Francis Seymour Haden, in founding the Royal Society of Painter Etchers. Unfortunately, beyond letters and articles in The Times, Nineteenth Century, and other journals, he left no written memorials other than catalogues of various collections, chief of which was the admirable catalogue raisonné of the Drawings by Michael Angelo and Raffaelle in the University Galleries at Oxford (1870). He was a fearless and outspoken critic, who nevertheless numbered many artists and experts among his personal friends.
Robinson married Marian Elizabeth Newton in 1852, daughter of Edmund Newton, of Norwich, by whom he had five sons and two daughters. She died in 1908. One of his sons is Mr Charles Newton Robinson and another is Mr Gerald Robinson, the mezzotint engraver. For many years he lived in Harley Street, but moved some years ago to the beautiful old house at Swanage where he died on 20 April 1913.

---
ULWELD MILL SWANAGE - 1871

Engraved title, signature and date inside the plate border.
On laid paper with full margins.

Perfect condition.

26,50 by 11,50 cm on plate border
15 by 30 for the sheet

Price: 125 €
---
You can access larger images by clicking on the thumbnails.
Contact me for prices and availability before purchase.

Below you can access detail images to see the quality of these works.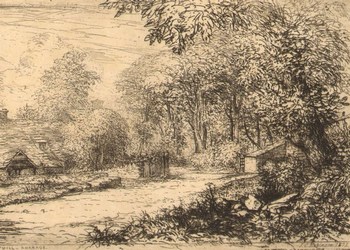 ---
---