19thC. Barbizon Artist / Theodore Rousseau
Charles Meyron Adolphe Appian Maxim lalanne Henri-Joseph Harpignies Camille Corot Charles-Francois Daubigny
THEODORE ROUSSEAU,
French, 1812 - 1867
---
Pierre-Etienne- Théodore Rousseau (born April 15, 1812, Paris, Fr. — died Dec. 22, 1867, Barbizon) French painter.

A tailor's son, he began to paint at 14 and soon was painting outdoors directly from nature, a novel practice at the time. Because he strayed from the academic path, his work was consistently rejected by the Salon. From the 1830s he painted regularly in the village of Barbizon, where he became a leader of the Barbizon school of landscape painters. His paintings, which show nature as a wild, undisciplined force, counter the calmly idealized landscapes of Neoclassicism, and his small, highly textured brushstrokes presage those of the Impressionists.
The connection of Théodore Rousseau with engraving was at most exceptional, three isolated tries of etching in 1836, 1842 and 1849 and a final one published in 1861.
---
ORIGINAL ETCHING BY THEODORE ROUSSEAU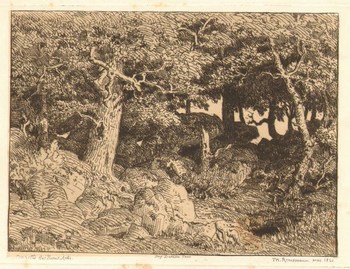 BANKS OF THE SOMME (PICARDIE)

Reference: MELOT Du.6 (I / II )

Printed for L'Artiste in 1836
14,8 by 21,8 cm on plate border,
20,5 by 28 cm for the sheet
Price: 160 EURO

---
You can access larger images by clicking on the thumbnails.
Contact me for prices and availability before purchase.

Below you can access detail images to see the quality of these works.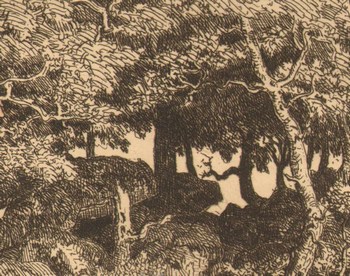 ---
---