20thC. Fauvism / Maurice de Vlaminck
André Derain Maurice de Vlaminck Georges Roualt Henri Matisse
Maurice de Vlaminck (4 April 1876 – 11 October 1958)
---
Vlaminck was a French painter. Along with André Derain and Henri Matisse he is considered one of the principal figures in the Fauve movement, a group of modern artists who from 1904 to 1908 were united in their use of intense colour. Maurice de Vlaminck was born in Paris to a family of musicians. He began painting in his late teens. In 1893, he studied with a painter named Henri Rigalon on the Ile de Chatou. The turning point in his life was a chance meeting on the train to Paris towards the end of his stint in the army. Vlaminck, then 23, met an aspiring artist, André Derain, with whom he struck up a life-long friendship. When Vlaminck completed his army service in 1900, the two rented a studio together for a year. In 1902 and 1903 he wrote several mildly pornographic novels illustrated by Derain. He painted during the day and earned his livelihood by giving violin lessons and performing with musical bands at night. In 1911, Vlaminck travelled to London and painted by the Thames. In 1913, he painted again with Derain in Marseille and Martigues. In World War I he was stationed in Paris, and began writing poetry. From 1925 he travelled throughout France, but continued to paint primarily along the Seine, near Paris. Vlaminck died in Rueil-la-Gadelière on 11 October 1958.
---
Original litho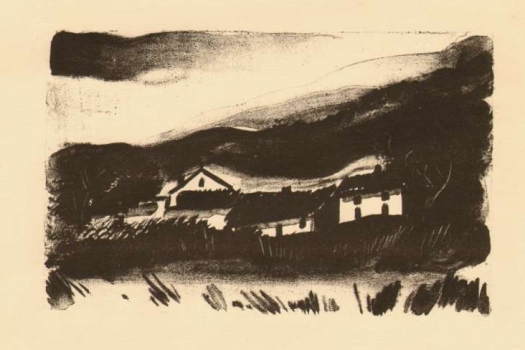 LES HOMMES ABANDONNES - 1927
178/325
Printed by Mourlot.

Sheet 29 by 24 cm
Litho 11 by 16 cm

Excellent impression in a full sheet of rag paper with good margins.
Price: 90 EURO

---
You can access larger images by clicking on the thumbnails.
Contact me for prices and availability before purchase.

Below you can access detail images to see the quality of these works.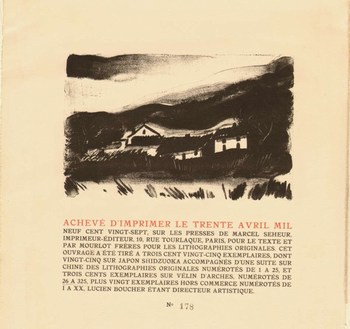 ---
---