19-20 thC. British and American prints
Louis Whirter (British, 1873-1932)
---
Louis Weirter (Whirter) was born in Edinburgh and studied at the Royal Scottish Academy Schools, and in Paris. He is best known for his pictures of the Great War, but he also did a lot of architectural paintings and etchings. Somewhat confusingly, his paintings bear the signature "Louis Weirter," while his etchings are signed "Louis Whirter." He illustrated a number of travel books. He lived in London and at Étaples in France.
Louis Weirter, the Scottish artist and inventor, died on the night of January 12 at his home in Onslow-gardens, South Kensington, at the age of 61, it is learned from The Times of London. He was an original member of the Scottish Society of Artists and exhibited at the Royal Academy, the Paris Salon and other exhibitions in many parts of the world. Of his war pictures, The Battle of Courcelette was bought for the national collection at Ottawa. Peronne is also at Ottawa, and War in the Air is in the British War Museum." The ART NEWS: Vol 30, no 19, 2/6/1932
---
ADVOCATES CLOSE EDINBURGH

Hand signed and titled
On laid paper with full margins.
Perfect condition.

31 by 15,50 cm on plate border
44 by 26 for the sheet

Price: 85 €
---
You can access larger images by clicking on the thumbnails.
Contact me for prices and availability before purchase.

Below you can access detail images to see the quality of these works.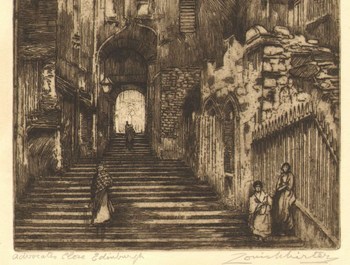 ---
---