17th Century's Italian landscapes by Dominic Barriere Massiliensis
Dominic Barrière Dominico Zampieri Gio-Jacomo de Rossi Carracci Claude Lorrain
Dominicus Barriere (1610-1678) - Italian School
Drawer and etcher. Worked after Claude Lorrain and Italian artists. His style is very fine and reminds that of Claude.
---
Two Mythological landscapes
After paintings by D.Z. (Zampieri)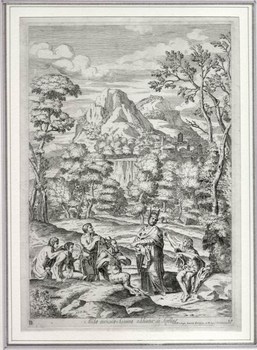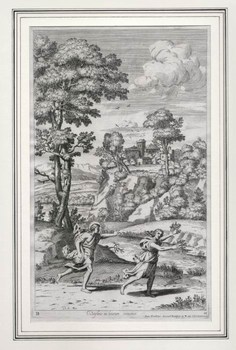 Signed BD interlaced and D.Z. Pin

Measures 20,50 by 32,50 cm on plate border,
In a full sheet of laid paper with nice margins.
Invented by: Domenico Zampieri 1581 - 1641) - Italian painter (Bolognese school)
Also known as Domenichino. He was Annibale Carracci's favourite pupil and one of the most important upholders of the tradition of Bolognese classicism. After studying with Calvaert and Ludovico Carracci he went to Rome (1602) and joined the colony of artists working under Annibale Carracci at the Palazzo Farnese.
---
All these works are available for purchase.
Of course you can access larger images by clicking on the thumbnail images above.
Contact me for a price list if interested.
Below you can access detail images to see the quality of these works.
Price on request
---