Mid 17thC. French landscapes by Perelle
Gabriel Perelle Adam Perelle Pierre Mariette Jean Le Blond
The Perelle are considered by the prints cabinet of Amsterdam as important under estimated landscape artists from the period.
It is very likely this art will increase in value and importance over the decades to come.
The images below are taken in low resolution. The colour also seems greenish on some but that is not the case at all. All are very good lifetime impressions in the same nice inking.
To see the perfect impression quality of these items please press the link to some high resolution pictures below.
detail of the first landscape global image of first landscape
detail of the last landscape global image of last landscape
Gabriel Perelle ( 1603 - Paris 1677) Adam Perelle ( 1638 - Paris 1695)
---
♣ Publisher: Pierre Mariette (1626 - 1696) ♣
---
A group of four landscapes

each 24 by 32 cm
---
A group of three landscapes with circus people
each 25,50 by 34,50 cm
---
Two landscapes by Gabriel Perelle, one after Pierre Patel (1605-16769)

each 18,00 by 23,50 cm
---
---
♣ Publisher: Jean Le Blond (Paris 1635-1709) ♣
---
Four landscapes with impressive buildings
each 25,00 by 32,00 cm
Wide landscape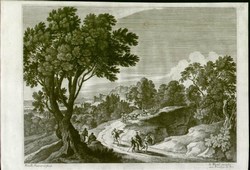 25,00 by 35,50 cm
Two rocky landscapes
24,50 by 31,50 cm
A landscape with full text line
24,50 by 35,50 cm
---