Anno 1631: Botanical prints / Emmanuel Sweert
Botanical Florilegium Emmanuel Sweert Court of Rudolf II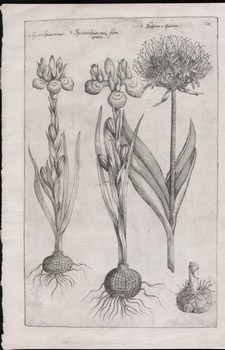 From the work : Florilegium Amplissimum et Selectissimum
In the early 17th Century, Emanuel Sweert was Praefectus of the gardens of Emperor Rudolph II. As a Nurseryman, Sweert presented his plants at the Frankfurt Fair. This plate, produced during the Tulipmania Period, as small brown bulbs and corms were responsible for crashing worldwide commodities markets, was in essence, a portion of his catalogue representing what was to bloom inside the small bulbs offered for sale at mid-Winter Flower Fairs.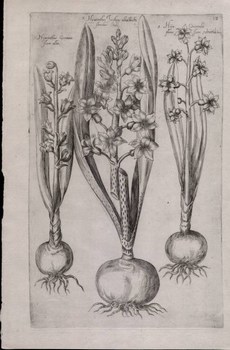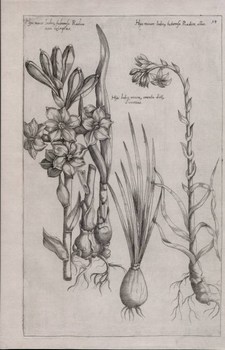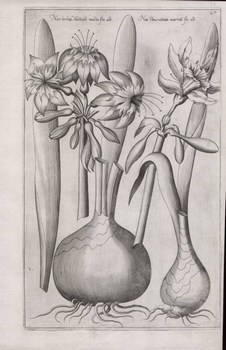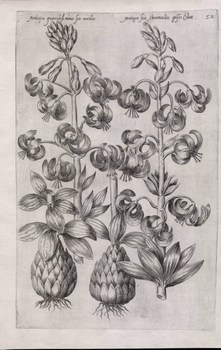 Measures on plate border 34 by 22 cm in a full early laid paper sheet with full margins.
Very good impressions with nice plate tone.

Author: Emanuel Sweert
These fine botanical engravings comes from Emanuel Sweert's work Florilegium Amplissimum et Selectissimum, this edition published in 1631. Sweert was a Dutch artist as well as a floriculturist. His combination of professions made him well-known among naturalists and botanists of the time. "[In the dedication] Sweert states that it was Rudolf II [Emperor of Hapsburg] who encouraged him to depict the more rare and unusual flowers in his collection and to have them etched in copper..." (An Oak Spring Flora, p.43). The first few editions were actually a catalog to assist in selling the rare plants that people could then purchase from his shop. Later editions, from which these plates come, were published as true florilegia for both scientists and experts in the culture of such fine specimens.
---
All these works are available for purchase.
Of course you can access larger images by clicking on the thumbnail images above.
Contact me for a price list if interested.
Below you can access detail images to see the quality of these works.
Price on request
---