17thC. French-Dutch landscapes / Jean Morin
Paris Fouquier Breughel Jean Morin De Momper Antwerp

Jean Morin (1605-1650) - French School

Painter-engraver from Paris. Pupil of Philippe de Champaigne. He first dedicated to painting but later he went to engraving and created a great superiority in this.
He used both engraving and etching and created nice effects. His portraits where inspired by Van Dyck.
He was one of the first French engravers who made landscape in the etching technique
Jacques Fouquier (1590-1659) - Flemish School
Flemish painter and draughtsman, active in France. His first surviving painting is the Winter Landscape in the manner of Jan Breughel I, who may have been his master. However, a drawing of a River Scene containing references to such Dutch landscape masters as Willem Buytewech and Esaias van de Velde (i), suggests that he may have trained in Holland. In 1614 he became a master in the artists' guild in Antwerp and in 1616 in that of Brussels. Soon afterwards he was in Heidelberg, working for Frederick V, the Elector Palatine. A Mountainous Landscape with Huntsmen of the same year 1620 (a sweeping panorama with a bluish horizon) recalls the style of Josse de Momper II.
---
A landscape designed by Foucquier and etched by Morin.
---
Impressive and early French landscape
Still influenced and with roots in the Flemish/Dutch School
---
All these works are available for purchase.
Of course you can access larger images by clicking on the thumbnail images above.
Contact me for a price list when interested.

Below you can access detail images to see the quality of these works.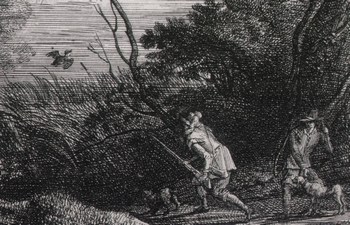 ---