17thC. Samuel Bottschild
Samuel Bottschild (1640-1707) Saxony Thüringen Dresden
Samuel Bottschild ( 1640-1707)
German painter, draughtsman, graphic artist and writer on art. born in Sangerhausen in Thuringen and from an important artists family from the 16th and 17th century. He was a son and pupil of Andreas Bottschild II (c. 1590-1657), a painter and engraver, who decorated churches in Sangerhausen. Samuel had further training with his brother Johann Andreas Bottschild (b 1630; d after 1670), with whom he went to Saxony. In 1658-61 they worked jointly on gallery paintings of 19 scenes from the Passion in the Dorfkirche at Hohnstädt, near Leipzig. The decorations for the banqueting hall of Schloss Rötha, near Leipzig (c. 1668-70) were Bottschild's first complete programme of mythological themes. At Rötha he also completed two group portraits of the female and male lines of the Friesen family.
Noted is a group of engravings showing his works from 1693. The etchings below come from this group, dating from 1693.
---
The four times of the day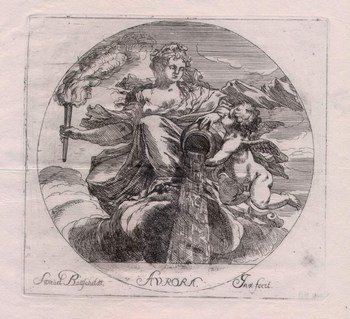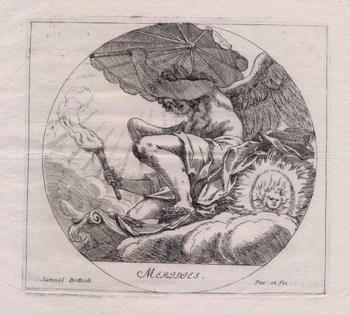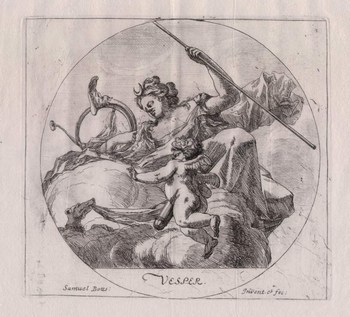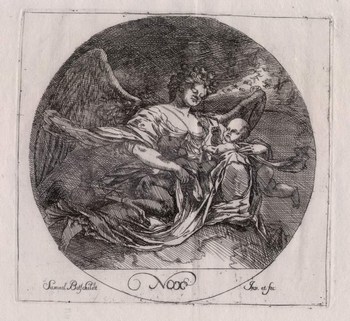 19 by 20 cm
(In a full sheet of 29 by 36 cm)
On marvellous thin but very strong laid paper from the 17th century
with a large beautifully detailed watermark (a snake twisted around a cross and heraldic emblem below)
---
Angels and Archangels
A group of four
29 by 22 cm
(In a full sheet of 36 by 29 cm)
On marvellous thin but very strong laid paper from the 17th century
with a large beautifully detailed watermark (a snake twisted around a cross and heraldic emblem below)
---
Click thumbnails for larger image
---