16th C. Peeter Stevens Landscape engravings
Aegiudius Sadeler Stephani Raphael Sadeler Peeter Stevens

Peeter Stevens II (1567-1624) Flemish School

Also called Stephani or Magzhan. Painter of landscapes and engraver from Mechelen (Malines).
He was a member of the Guild of Mechelen in 1560. Court painter of Rudolph II in Prague between 1590-1612.
Around 1600 he was in Venice and Rome. Known for his landscapes.
---



RIVERSCAPE
tower on a rock in centre
Aegidius Sadeler(1570-1629) Sculp
P.Stephani Invent

H.265 II / II (with the address of Marco Sadeler)
From EIGHT BOHEMIAN LANDSCAPES

Circular watermark
17,50 by 25,50 cm on plate border
In a full sheet with wide margins


LANDSCAPE WITH RUINS ON THE LEFT
in foreground a man on horseback and a man on foot
Raphael Sadeler I (1560-1628) Sculp
P.Stephani Invent

H.221 only state

Watermark: Shield with an R inside
20,40 by 26,90 cm

VIEW ON A HARBOUR
To the right on a rock a group of seven men
Raphael Sadeler II (1584-1632) Sculp
P.Stephani Invent

H.55 only state

Watermarked laid paper
20,è0 by 27,92 cm
---
Click the thumbnails below for detail images.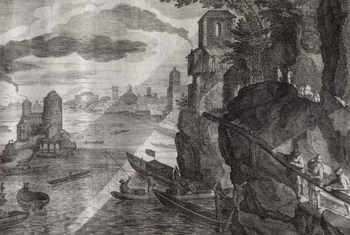 ---