The Dutch animal etchers
Nicoals Berchem Adrian Van de Velde Karl Dujardin Paulus Potter
This is a discipline within the Dutch realistic landscape tradition from the mid 17th century.
At the height of the so called Golden Age well-known artist like Nicolas Berchem, Paulus Potter and Adriaan Van de Velde specialized in this genre,
Nicolaes Berchem (1620-1683)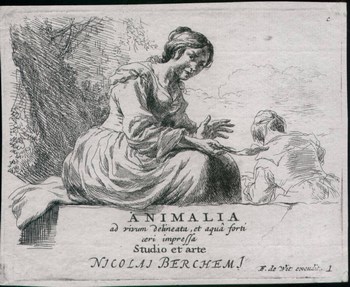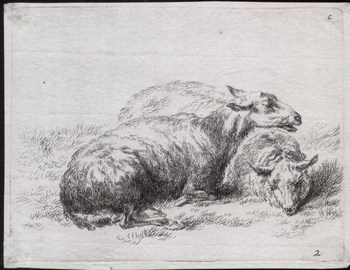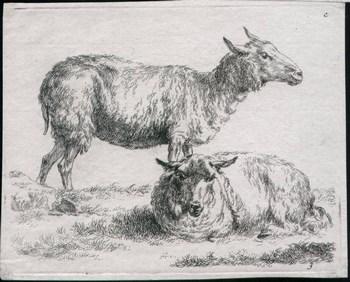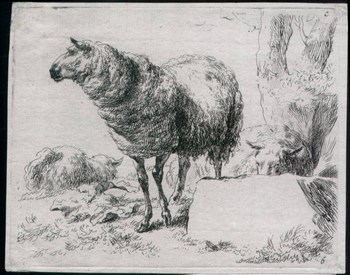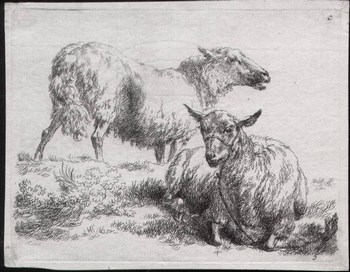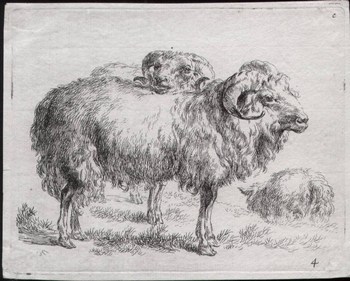 full set of Animalia
each 10,50 by 13,00 cm

Good impressions on fine laid paper with a watermark with shield(?) inside a circle.
Painter-etcher from Amsterdam who worked also in Italy.
Published by Frederick de Wit 1630-1706
---
Karel Dujardin (1622-1678)
H.3( I / III )
15,3 by 14 cm
First state before the number.Collection mark of E. TH. Rodenacker (Lugt 2338). Top condition

17 by 20 cm
The battle field.
Etching 1652.
Laid paper with fools head watermark
Karel Dujardin was born in Amsterdam, he probably went to Italy in the period 1640-1652. His work of 53 etchings was made when he was back in the Netherlands.
It is dated in the period 1652-1660. His landscape have a lot of light in them and his animals are near to Paulus Potter. Another link between some great artists.
---
All these works are available for purchase.
Of course you can access larger images by clicking on the thumbnail images above.
Contact me for a price list if interested.

Below you can access detail images to see the quality of these works.
____________________________________________________________________________________________________________________