Dutch animal etchings : Paulus Potter
De Bye Nicolas Cornelis Cornelisz. Visscher Paulus Potter
This is a discipline within the Dutch realistic landscape tradition from the mid 17th century.
At the height of the so called Golden Age well-known artist like Nicolas Berchem, Paulus Potter and Adriaan Van de Velde specialized in this genre,
---

Paulus Potter (1625-1654)

This painter from Enkhuizen died in Amsterdam when he was not even 30 years old as one of the better known Dutch painters.
Potter was one of the first artists ever to choose animals as his main subject. In this he was sublime.
Paulus Potter (1625-1654) is in many eyes Holland's most heralded animal artist. His art is all the more remarkable considering that he died at the age of twenty-nine and thus his oeuvre is small in number. Both a painter and printmaker he created only eighteen etchings. Shortly after Potter's death, Marcus De Bye began etching sets of animal studies after this master's drawings. The first set was published around 1657 and at least five others followed based solely upon Potter's designs. The sizes for the series ranged from eight to sixteen plates.

No works available

---
Marcus de Bye (1639-1688)

Painter engraving from The Hague. Pupil of the painter Jacob van der Does. He is more known for his etchings then for his paintings, among them fine work after Paulus Potter.
The publishing history for De Bye's etchings after Paulus Potter is well documented. Rare first state impressions lack the address of N. Visscher on the frontis-piece plate and were printed in only a handful of impressions. In the second state impressions Nicolaas Visscher's name appears. This major publisher printed editions of De Bye's sets from approximately 1660 to 1700. In 1726 Petrus Schenk acquired the plates and printed sets bearing his name along the lower margins of the frontis piece etchings.
The etchings offered below are etched by De Bye
They are from a state before the added address of Schenk and published by Visscher..
---
A complete series of Potter Sheep (16 etchings)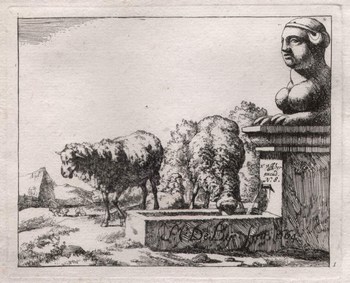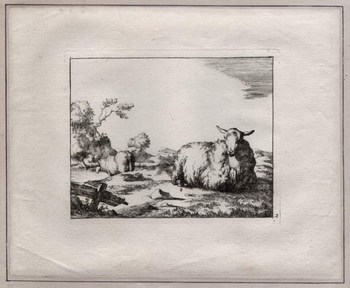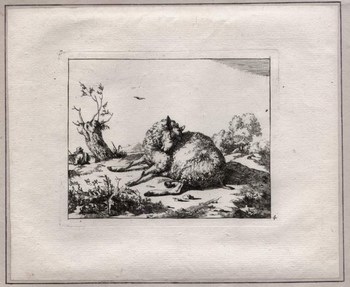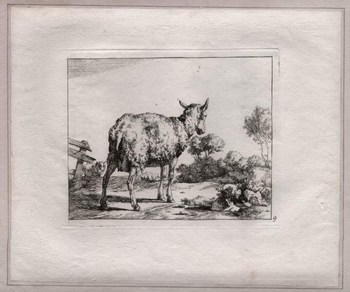 ---
A complete series of Potter Goats (8 etchings)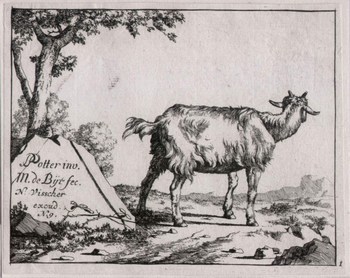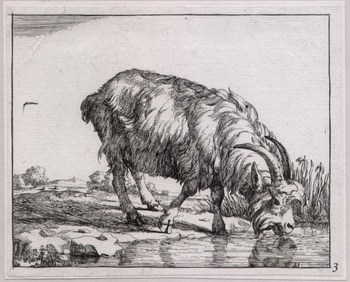 ---
Another complete series of Potter Cows (8 etchings)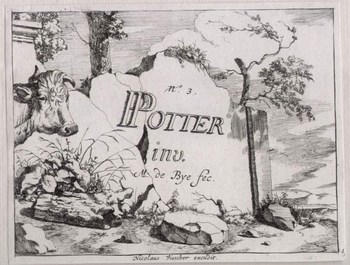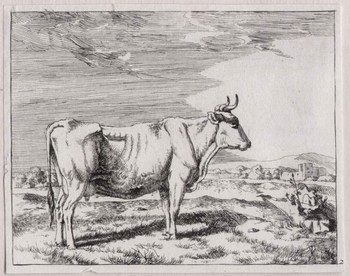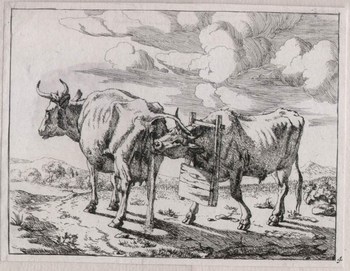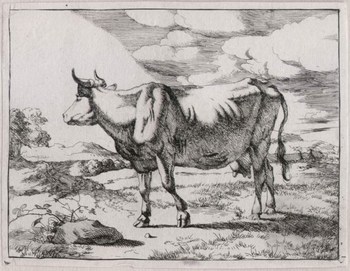 Good impressions measuring 11,50 by 14,50 cm trimmed on plate border.
A uniform set with Fools head watermark on 1,5,7 and 8

B.27-B.24
Plate 8 showing a sheep loosing wool

Tipped with left corners on a collectors sheet. Good condition.

A total of 8 prints
Rare to be found as a complete uniform set.
---
All these works are available for purchase.
Of course you can access larger images by clicking on the thumbnail images above.
Contact me for a price list if interested.

Below you can access detail images to see the quality of these works.
____________________________________________________________________________________________________________________