One of the nicest subjects for collecting are the Dutch landscapes from the mid of the 17th century. With this online catalogue I'm glad to offer some of the finest artists from the period.
---
Herman Van Swanevelt (1600-1655)
See the page with only Swanevelt prints.
---
Thomas Wyck (1616-1677)

Dutch etcher known for his marines and views of markets or other scenes with a lot of human activities

---
Willem Nieulandt II (1584-1635)
Willem van Nieulandt II (the Younger) was a painter, engraver and writer. In 1594 he was apprenticed to Jacob Savery in Amsterdam. In 1601-02 van Nieulandt left for Rome, where he went to live with his uncle Willem van Nieulandt I, a painter and draughtsman who lived and worked in Rome, where he was known as Guglielmo Terranova and who was also his teacher. Later Willem II entered the studio of Paul Bril. In 1604 he left Rome, lived briefly in Amsterdam and then moved to Antwerp, where he became a master in the Guild of St Luke in 1605. On 28 February 1606 he married Anna Hustaert in Amsterdam; the couple had several children, including Catharina, who married the painter Adriaen van Utrecht in 1628. Van Nieulandt spent the final years of his life in Amsterdam, where he drew up his will on 24 October 1635 and probably died shortly afterwards. Landscape and light are most characteristic in their work.
Large landscapes after Paulus Bril
approx. 23 by 32 cm
Above are impressions from his famous suite of Roman landscapes after Paulus Bril.
published by Pierre Mariette in the 17th century.

---
---
Albert Meyering (1645-1714)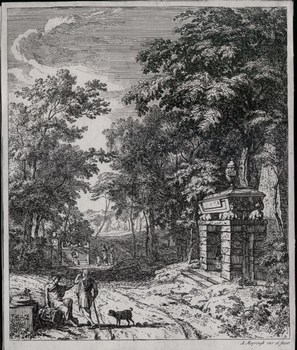 24 by 19,5 cm

Very fine impression.
Painter-etcher from Amsterdam who worked also in Italy.
---
All these works are available for purchase.
Of course you can access larger images by clicking on the thumbnail images above.
Contact me for a price list if interested.

Below you can access detail images to see the quality of these works.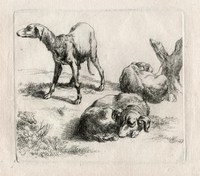 ____________________________________________________________________________________________________________________